Click here for HHTP parts list.
Hydraulic Hammer & Tool Paste (HHTP)
Interlube/Robertshaw Lubrication Systems
Chassis and industrial
Click here for Interlube parts list.
Click here for TLS parts list.
Techno Lubri System (TLS) Lubrication Systems
VEI
VEI scale systems:wheel loaders, excavators,log loaders,haul trucks,and forklifts.
Millenium weigh systemHelper
P-5 weigh system with printer
For further information go to www.rmt.ca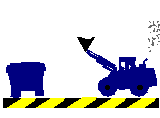 How much does this load weigh?